I think I used the word historic to describe the market in last week's e-mail. Well, just when you thought it couldn't get wilder, it does.
By any metric, what we've seen in this market is truly generational action. Some have compared it to 1987, but even then, I'm not sure the craziness even compares.
At the end of the day, the market has done what it has always done – try to hurt the most people as much as it can.
As I said last week, hopefully, if you've been even somewhat following my trading, you've been making money. Or at the very least kept yourself safe. Keeping yourself safe is HUGE in a market that will present multiple trading and long-term investing opportunities.
So the market can do whatever it wants, and we'll stick to my mantra for the last few weeks – be patient, be opportunistic, be flexible, and bet SMALL. Simple.
So let's go step-by-step through a few main points.
1. If you're at all inexperienced, just stay out. If you have a low risk tolerance and can't afford to lose money on your bets, stay out. Watching is OK. There will be plenty of chances to make money later in the year. Right now, this market is even destroying billion dollar hedge funds and traders with of decades of experience.
2. Be skeptical of any trade. That includes any trade I make, despite me making money through all of this. I know what it's like to see a hot hand and want to be aggressive and follow them. Greed and FOMO is your worst enemy.
3. Understand that charts are thrown out the window right now. Support levels are breaking, technicals are getting stretched, the market is running stops and the pain trade is changing by the second. As you know, I rely on simple charts. That's the core of my trading. But if you've followed me long enough, you also know there are times that I trade on sentiment just as much. I can tell you right now, I'm weighing sentiment a little more than the charts. And trying to read sentiment is truly an art. There's no magic wand. Does that sound unscientific and unreliable? Well, it is! I'm going to have some losers, that's just part of the game. That's why any trade I make is focused on Rules 1 and 2 first.
Anyway, so where are we? Is there a game plan?
Not really – we're going to go with what the market gives us in real-time.
I can say generally though, my plan is to really focus on what I think the psychology is. And that's where you really have to get into the second derivative and reverse psychology in a market that is trying to chop both sides up.
The late Friday spike into the close is a perfect example. The SPX rallied +7% in the last half hour. Think about that. Through most of most traders' trading lifetime, a +7% move has been an eye-popping, breathtaking monster daily move. And we did that in half hour.
That tells me for the first time in a while, the pain trade at least that afternoon was higher. The set-up was perfect, a gap up, that failed yet again, re-testing the Thursday low, and then an initial sell-off when Trump started speaking to shake out another load of trapped bulls.
So again, we'll target the scary trade. Unlike what you may think, I think for most of the last few weeks, the scary trade has actually been to go short. Psychology truly felt like people as early as a few weeks ago were trying to catch the big bear-market dead cat bounce and neatly step away with profits. Honestly, who wants to short or sell a market that has already been down -20%. The market obviously continually punished them. I assume many are liquidated by now.
We're seeing futures sell off again.
If you're being honest, the true hard trade right now is to hold on to longs longer than you feel comfortable with. Heck, even I was cautious with my latest long bet, cashing out at break-even when I had a chance, and missing the last half hour spike that would've doubled by bet.
So I'm generally in buy the dip mode – for a few days only though. And I'm going to have to be buying when things look like they're about to truly break down, like this morning. Friday's action told me people are ready to put on shorts and will be lulled into selling again. I'll be taking small shots long.
Keep in mind – any trades I do make will feel even more contrarian than usual. That means there will often be no obvious reason, and in fact, will look more obviously like the worst trade to make at the time. I'll be buying charts that are "clearly" breaking down. That's the nature of this market. I'll remind everyone that my trades fit my own risk appetite , and are clearly not for everyone. I'll be keeping them small, but I will have no problem if I literally lose all of the money I make on these bets. If you can't say the same thing, make sure you're not following alongside me.
---
1. Let's keep in the back of our minds that the market is at record oversold levels. For long-term investors this is a good chart to put into context the levels of selling we're seeing. I'm not going to trade necessarily just on this extreme condition, but its a data point to remember.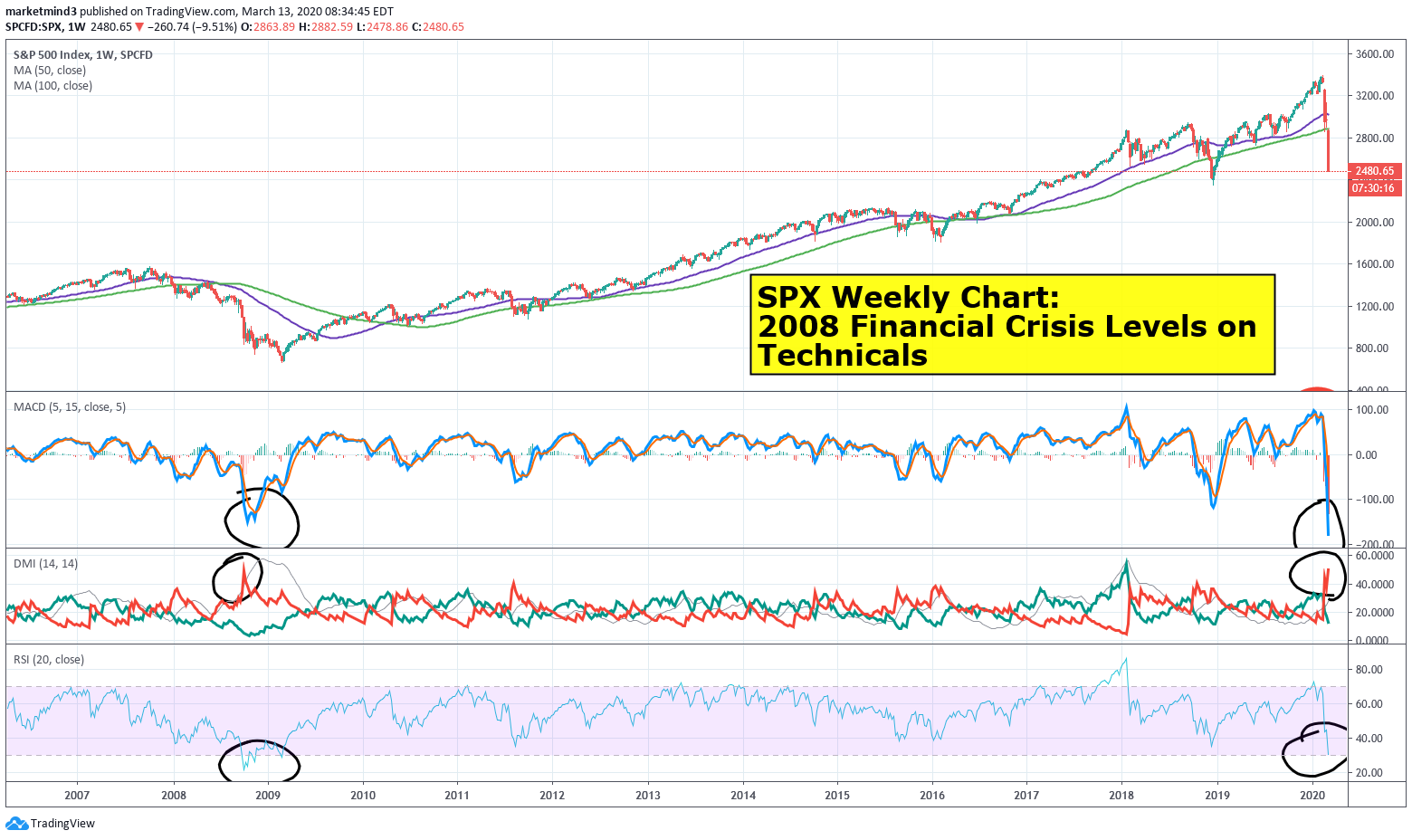 2. It's time to start keeping an eye on the long-term monthly charts. I keep things simple – if the MACD is positive, which it still is, the market is still in a long-term bullish formation. Note how even in the 2018 correction, the SPX held its 50-month moving average and the MACD stayed positive. This was unlike the 2008-2009 bear market where the monthly went negative, leading to the extended bear.
As of now, the SPX is still in positive MACD territory. If the bear market crowd is right, we'll dip negative soon, and then we can start trading more aggressively like we're in a bear market. I don't care either way, but I certainly won't jump the gun and make any assumptions yet.
3. In terms of individual stocks, I can tell you generally what I'm focused on here, both as trades and as long -term investments. First of all, I'm not bothering with the obvious plays. Zoom and Citrix for remote conferencing. Netflix. Toilet paper and staples. Costco. This is the stuff the average traders are flocking to. Let them.
I'm really only looking at the dumpster fires. Obviously, not indiscriminately. But stuff that has franchise value and will still be around in 5 years but are getting puked out. I'm not expecting to catch the bottom here. But my long-term buy and hold basket is adding Disney and Marriott.
In my trading career, most of my profits in individual names has been buying the stuff that's on fire that no one will touch. The results have been so spectacular, that its the only way I look at the world. Safe is fine – but it doesn't make money.
4. Bitcoin followed the market into train-wreck city this week, after weeks of being clearly bearish. My commentary on Bitcoin hopefully has been clearly leaning bearish and helped active traders avoid the capitulation. It started out as a sentiment call when it seemed everyone had $10,000+ targets. I got nervous then, even as the charts were all pointing up. And when the the charts broke down and confirmed, the rest is history. I obviously did not sell, but I've said my current Bitcoin position is a long-term asset allocation holding. In other words, as part of my whole portfolio, I just like the idea of holding a portion in Bitcoin as diversification and the binary upside.
---
A CHART THAT CAUGHT MY EYE
GME – Gamestop
There aren't many bullish charts or set-ups out there. But there are some.
Gamestop has been a terrible stock for awhile, and has been in a clear bearish formation.
But putting that history behind us, I still see the potential for at least a multi-week rally. The daily chart broke resistance with a huge +31% two-day move from the Thursday low to Friday. The weekly chart broke its downtrend, with a MACD turning up. The MACD has also built enough positive divergence to maybe even peak into positive bull territory.
There is huge short interest because of the hack, Mr. Obvious traders – "Who shops at Gamestops anymore?" "Everything is going digital." Blah Blah. Eventually maybe they'll be right. I won't care since I'll hopefully have already booked my profits long before that happens.
It's worth a shot if you have a decent risk tolerance. I've set a stop at $3.75, which is the area of previous bounces in February.