As I've sat down to write this e-mail the past few weeks, I get the sense that my market thoughts for the week keep sounding like I'm repeating myself from the week before. And the week before.
It's seems like a broken record.
But that's the way the market is sometimes. It will whipsaw and confuse and bore everyone until it makes a real move. It will punish traders looking for obvious trades and make the real profitable trades hard to catch.
Looking back at last week, the market continued its steady grind higher, but also continued its steady buildup of bearish red flags- negative divergence on momentum technicals like MACD, overbought RSI level, relatively weak breakout.
This is normal in areas of tops. But it's still too early to know if this ends up being some sort of top. .
Non-professional traders too often look for some magic formula or future-telling guru to give them all the answers and never be wrong. That's just not how it works.
My formula has worked well for all my years trading – wait for decent set-ups and make my bets.
Right now there are no obvious set-ups. Thus: no market bets.
We've broken some short-term trend lines so I'm still expecting an eventual dip of some sort. Rather than make a short bet, I'm more inclined to see how it plays out and scoop up some longs when it happens.
---
3 THINGS ON MY MIND
1. Looking back at last year, most of my +80% return in my market trading account last year was made with only a handful of bets. That's important to keep mind as we wait for our next set-up. We only need a few good trades a year to make money.
2. Following up on my semiconductor thoughts from last week– I looked at the previous times in the last 20 years that semis were up more than +60%, like they were this year. In 2003, they followed up a +75% year with a -15% negative year. In 2009 (the bottom for the entire market), they were up +70% and then the next year were up +14%. So, history says not to expect another +60% year this year, and maybe even a down year.
On the whole, there were rarely more than up more than 3 years in a row, and the price history clearly highlights how cyclical they are.
Bottom line, it's supports my idea that I'm not chasing their +60% 2019 performance.
3. Bitcoin played out the bullish scenario that I was holding out for. As it was making its last mini-dip a few weeks ago, I mentioned that I was willing to give it some rope even as it threatened to break down again. That patience paid off as BTC bounced hard off the lows. More importantly, all of the minor resistances that loomed up above were easily overcome. We're now consolidating above and those resistances are now becoming solid support. This is a bullish chart.
---
A CHART THAT CAUGHT MY EYE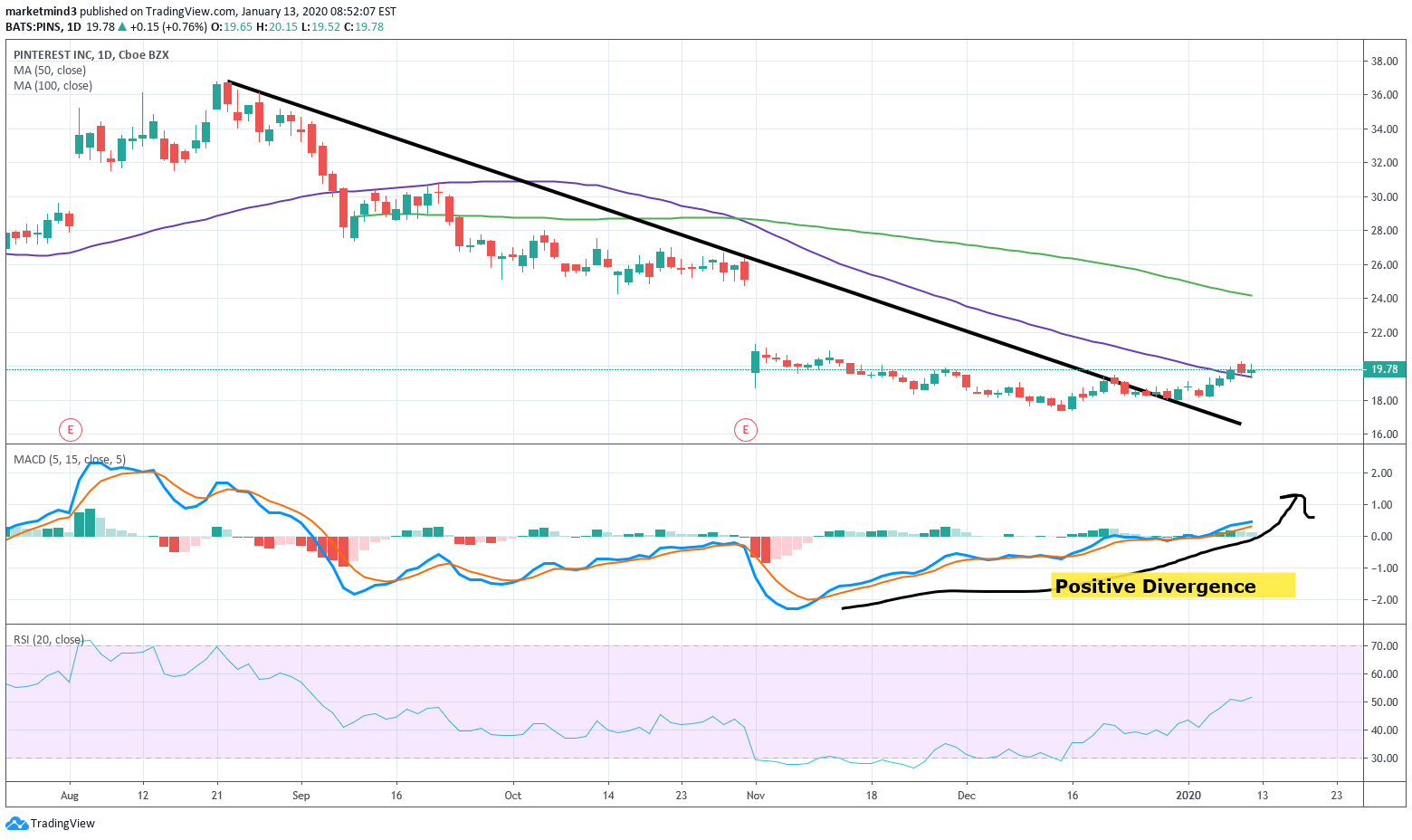 PINS – Pinterest
I highlighted Pinterest in my Twitter this week so I'll mention it here. It has a similar set-up to previous winners for me.
I really don't know if Pinterest is going to be a dominant social media/e-commerce platform in the future. I know it has a rabid following and online content creators and marketers have been using it as a marketing platform. But the technology and media world changes so much, I never really get too excited about any one company.
But a good chart is a good chart.
You all know the drill: bottoming action, making lazy price lows all the while building positive technical divergence and now in a bullish MACD configuration. In the short-term it's somewhat overbought, but I'd be buying more on any multi-day correction or sideways consolidation.